I had the pleasure of working with A+ Roofing recently on a roofing job. From the initial contact to the completion of the job, the entire process was smooth and professional. The team was knowledgeable and helpful in explaining the process and helping me understand my insurance claim. The work was completed on time and to a high standard. I would highly recommend A+ Roofing for any roofing services.
- Jackie, C

I am extremely pleased with the exceptional service provided by A+ Roofing. From start to finish, their team demonstrated professionalism, expertise, and attention to detail. The roof installation was completed on time, using high-quality materials. Their knowledgeable staff addressed all my questions and concerns, ensuring a smooth process. I highly recommend A+ Roofing for anyone seeking reliable and top-notch roofing services.
- Richard, B

Choosing A+ Roofing was a decision I'm grateful for. Their team's dedication to excellence is evident in every aspect of their service. The work they conducted on my roof were carried out swiftly and with meticulous attention to detail. The friendly staff kept me informed throughout the process, and the final result exceeded my expectations. Their professionalism and commitment to customer satisfaction are truly commendable. A+ Roofing has earned my trust, and I wholeheartedly recommend them to anyone in need of reliable roofing solutions.
- Joe, P

We Only Deliver the Best!
Dedicated Team
A+ Roofing's skilled professionals are dedicated to restoring your roof with care.
Free Estimates
We don't want any unexpected surprises with A+ Roofing's free and accurate estimates.
Reliable Services
Trust in the dependable roofing services solutions provided by A+ Roofing.
Affordable Pricing
We provide quality roofing service without breaking the bank, with our affordable pricing.
When it comes to your roofing needs, A+ Roofing company stands out as the premier choice for all your roofing services. With a track record of excellence and a commitment to customer satisfaction, A+ Roofing offers a range of unparalleled benefits. Our expert team of professionals brings years of experience and expertise to every project, ensuring top-notch craftsmanship and durable solutions. Whether you need a new roof installed, or assistance with navigating insurance claims, A+ Roofing provides a seamless experience, characterized by transparent communication, efficient project management, and timely completion. 
• Skilled and Knowledgeable Team
• Quality Materials
• Warranty Protection
• Efficient Project Management





Professional Services We Provide




Siding Service Company in Cincinnati, OH
Elevate the exterior of your Cincinnati, OH home with A+ Roofing's exceptional siding services. Using high-quality materials, we ensure your home is shielded from the elements while adding to its visual appeal.
Safe And Effective
Our team is thoroughly trained and certified in safe practices. Quality Results
We use high-quality equipment to ensure the best results.
Latest Technology
We use the latest technologies for your project. Fully Insured
We are fully insured, giving you peace of mind. Locally -Owned
We are locally owned, providing services to the community.
Our Siding Services Are As Easy As
Get In Touch
If you have any questions, please get in touch with us. We're happy to help you with any queries.
Schedule An Appointment
A+ Roofing provides free estimates, so schedule an appointment today to get yours!
We Take Care Of You
Our team will ensure that your property is in safe hands. We will provide you with the best care and ensure results.
A siding service company you can Rely on
When you choose A+ Roofing company, you're not just choosing a service – you're entrusting your siding needs to a dependable partner committed to delivering results that stand strong against the test of time.
Cincinnati, OH's Finest Siding Service Company
Vinyl Siding Installation
Vinyl siding installation is a transformative process that not only enhances the aesthetics of a home but also offers long-lasting protection against the elements. This versatile and cost-effective option involves fitting durable vinyl panels over the exterior walls, creating a barrier that shields the structure from moisture, UV rays, and temperature fluctuations. With a wide range of colors, textures, and profiles available, vinyl siding allows homeowners to achieve their desired aesthetic while minimizing maintenance efforts
Siding Installation
Siding installation is a pivotal step in enhancing a building's exterior appeal and protection. This process involves affixing durable panels or materials to the outer walls, creating a barrier against weather elements and contributing to insulation. Professional siding installation ensures precise fitting, proper sealing, and efficient drainage, safeguarding the structure from moisture, pests, and other potential issues. A well-executed siding installation not only refreshes a property's appearance but also plays a crucial role in preserving its structural integrity and overall value.
Enhances your curb appeal and overall home aesthetics.
Protects against weather elements, prolonging siding's lifespan.
Prevents water infiltration and costly interior damage.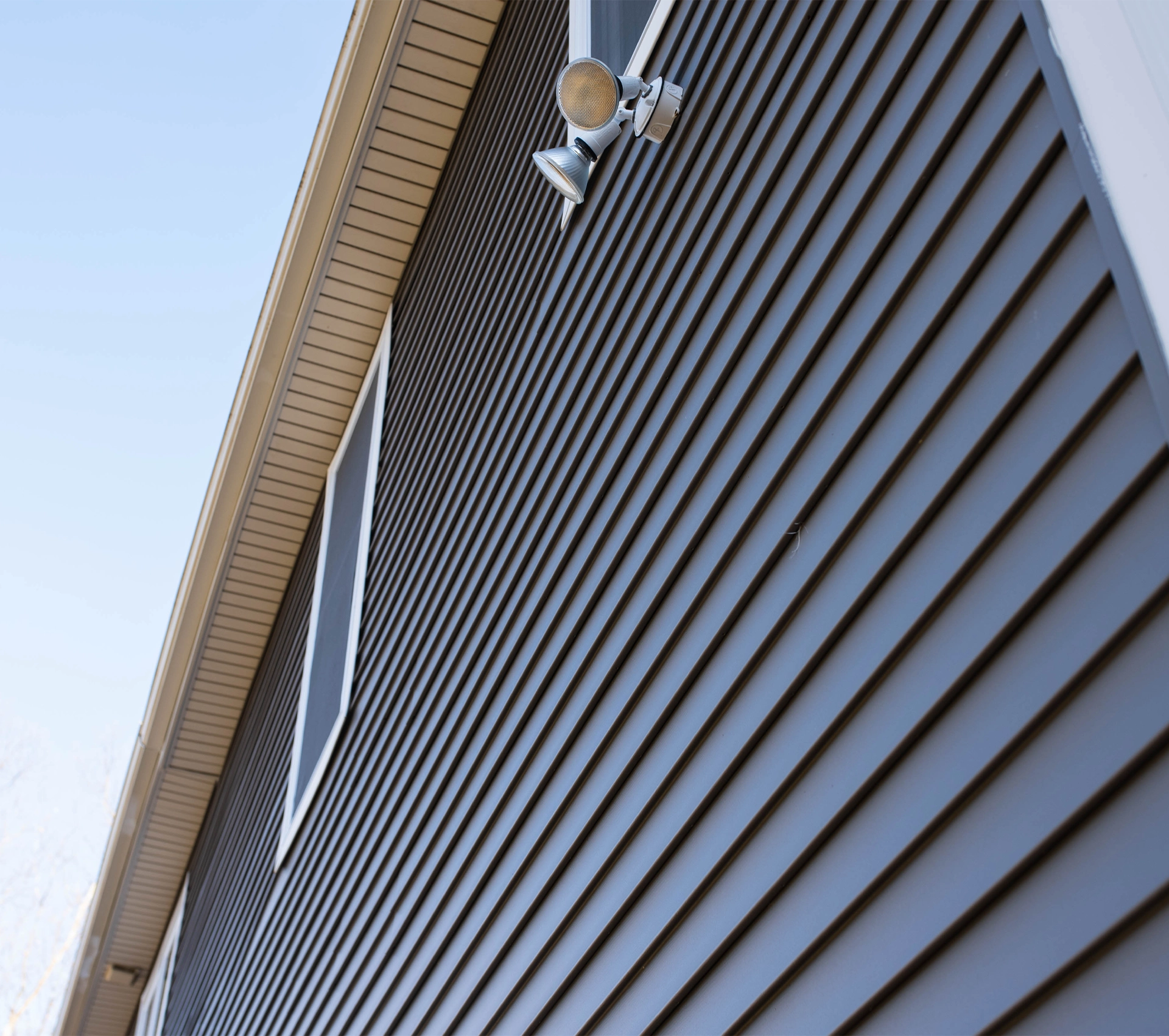 Invest in New Siding Today!
Top-Quality Siding Service Company
Siding Insurance Claims
If your property's siding has sustained damage due to factors like storms, impacts, or unforeseen accidents, A+ Roofing's dedicated experts are well-equipped to guide you through the insurance claim procedure. Our team is experienced in assessing siding damage, documenting it meticulously, and collaborating directly with insurance adjusters. By working closely with your insurance provider, we ensure that your siding repair or replacement needs are comprehensively evaluated and appropriately covered under your policy.
With our deep knowledge of siding materials and installation techniques, A+ Roofing not only simplifies the claims process but also ensures that your siding is expertly restored, preserving your property's exterior while minimizing potential future concerns. With a reputation built on trustworthiness and expertise, A+ Roofing stands as a reliable choice for navigating the complexities of siding insurance claims, ensuring your home's exterior is rejuvenated and fortified to withstand the elements for years to come.
Shields from pests, reducing infestations.
Provides a fresh and updated look for your home.
Preserves structural integrity, preventing decay and rot issues.
Why Choose A+ Roofing Company?
Siding Service Company Near Me
At A+ Roofing, our comprehensive siding services embody our commitment to excellence, reliability, and customer satisfaction. With a wealth of experience in the industry, we offer a range of solutions tailored to transform and protect your property's exterior. We understand that siding not only enhances your home's aesthetic appeal but also serves as a vital shield against the elements. From the initial consultation to the final finishing touches, our meticulous approach ensures that every aspect of your siding project is handled with precision and care, leaving you with an enduring, beautiful, and well-protected exterior.
Choosing A+ Roofing for your siding needs offers a multitude of advantages that set us apart as a premier choice. Our dedication to transparent communication and exceptional workmanship fosters a partnership where your vision and preferences are at the forefront. Moreover, we pride ourselves on completing projects within agreed-upon timelines and budgets, respecting your investment, and minimizing disruptions to your daily life. With A+ Roofing, you're not just receiving a siding service – you're choosing a team that is passionate about delivering outstanding results that elevate the beauty, durability, and value of your home.
Enhances insulation, regulating indoor temperature.
Minimizes moisture-related problems.
Defends against UV rays, preventing fading and discoloration.